I've been trying to live on those words for a few weeks now... but it hasn't really sunk in. This week is going much better so far, and all too soon I'll have disappeared almost completely. I HAVE to study like I've never studied in my entire life, nor will ever study again. Just until the end of July, and I hope you'll all hang in there and forgive me for not commenting on every entry. It's just not possible right now :( .... of course I'll be checking in! so ya'll behave yourselves ya hear? (yes
dayweletgo
and sissa - I'm lookin at you two in particular!!!) ... (as well as those of you out of town and on summer vacation! beware the idle hours that lead to mischief!) ::wink::wink::
I know I haven't posted in a Loooooooooong while, and it will likely be a month and a half before I post again, (ok, that's WORST case scenario, but very likely the case) so I tried to make today's picspam really wonderful. I hope I succeeded! *fingers crossed*
Yes, that's a new header!! lol.. I couldn't resist... I LOVE that particular photoshoot ...sigh... those eyes... I may bring the other one back later though... it had a soft, calming effect on me.
There isn't much going on with me :) ... just mailed about 40 thank you cards today (FINALLY!) so now I can REALLY concentrate on my work.... and that's about it! lol, yes, very boring life right now :D
Since I really don't have much to say, I guess we'll just get on with the picspam!! WOOHOO!!! (oh! but first! a shout out to newbie
roxierocks5
!! welcome to LJ lil Jane!!!)
First we start with
VENICE PART TROIS!!!!
(part trois? you ask.. but where are Part un and Part deux? well, big sissa Megs (
maggiesheridan
) posted them!! If you haven't already GO check them out! SO AWESOME!!)
lol... how much do you want to bet that cameraman/woman just about fainted at this look?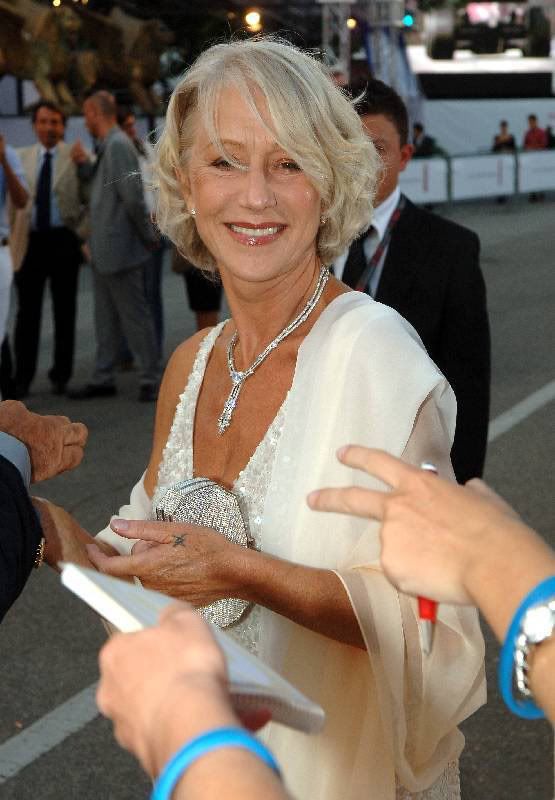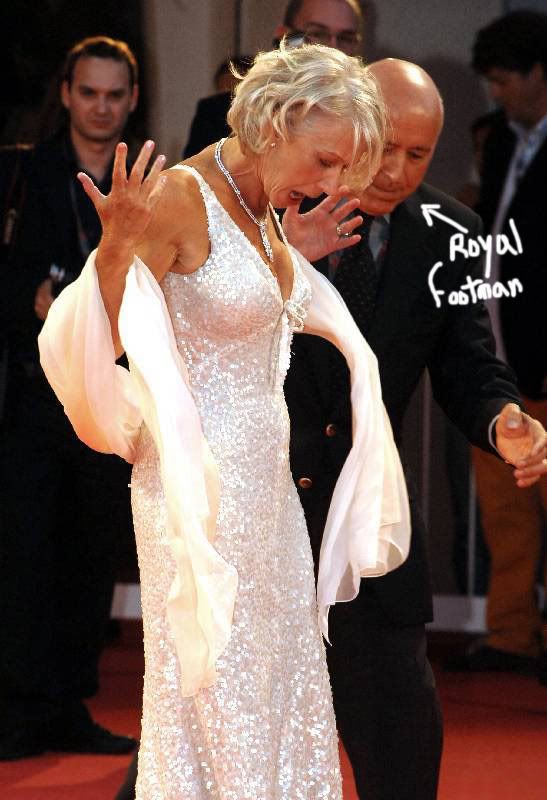 Hehe... reassuring us that all's well?
Hey! I was kidding! no really... they don't cut people's heads off anymore Stephen! ... of course I'm sure!
Or.... am I? muahahaha!
More venice!!
OMG!! She almost fell!! thank heavens they caught her!! ... looks scary though :-/
WOOSH! what a shot!
Helen playing with her hair...
Helen arranging her hair part deux...
Helen arranging her hair part trois... (don't photographers know they're supposed to WAIT until she's done! yeesh people!)
Helen arranging her hair part quatre!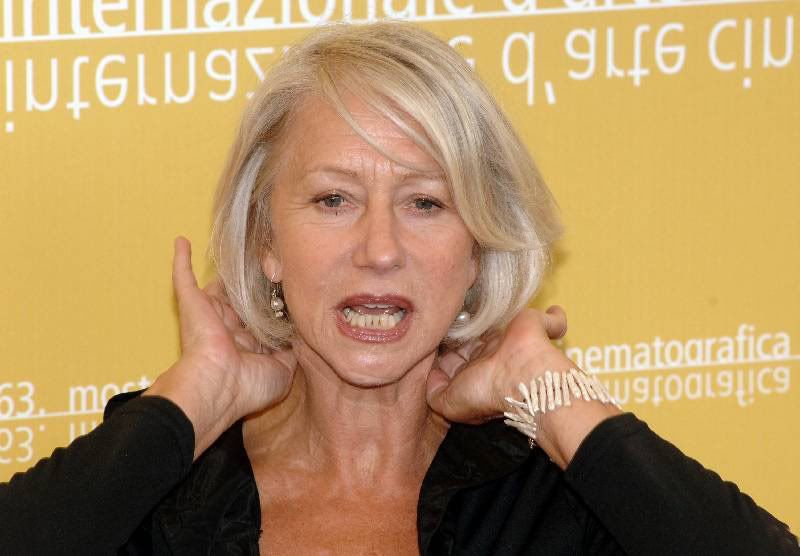 hehe... yes dearie, your bra strap is showing! she's SO cute! and that's it for Venice 2006!
Just a couple from CineVegas!! Because you know I can't get through a Helen spam without AT LEAST one Helen/Taylor pic!!
and Helen looking lovely and radiant on her own...
This is a relatively new set from March 2007 of Helen, and I quote, "leaving a meeting" (no idea!) I had seen a few WITH watermarks, but here's a few more and all without those ugly marks! yay! :D
ok girls, he's not THAT cute!
Awwww!! Only Helen is classy enough to WAVE to the paparazi!
AWESOME CLEAVAGE ALERT!!! WARNING! WARNING! :D ... you guessed it! MILL VALLEY HERE WE COME!
not yet.....
Still not yet...
Tada!! ... (he's looking at the paper.. right? ;) wouldn't that be awful! If you were caught on film oogling Helen's assets!?!? LOL!!
(YES, I called them "assets" ... so I'm a straight-laced, uptight conservative! so what!? :D MUAHAHA!)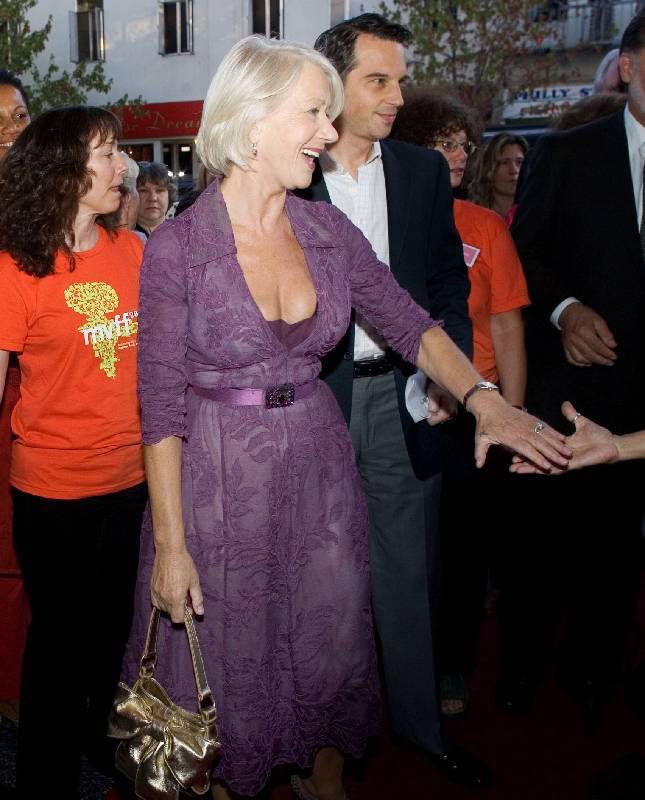 That purse should be taken to a remote corner of the deepest darkest woods and shot, so as to put it out of its sad existence. (was that a little too sadistic? *evil grin*) FINE, then it should be sent back in time to the 80s where its family is... poor little lonely purse lost in the 21st century :( ... better?
But Helen clearly OWNS in that dress and shoes!!! *DIES*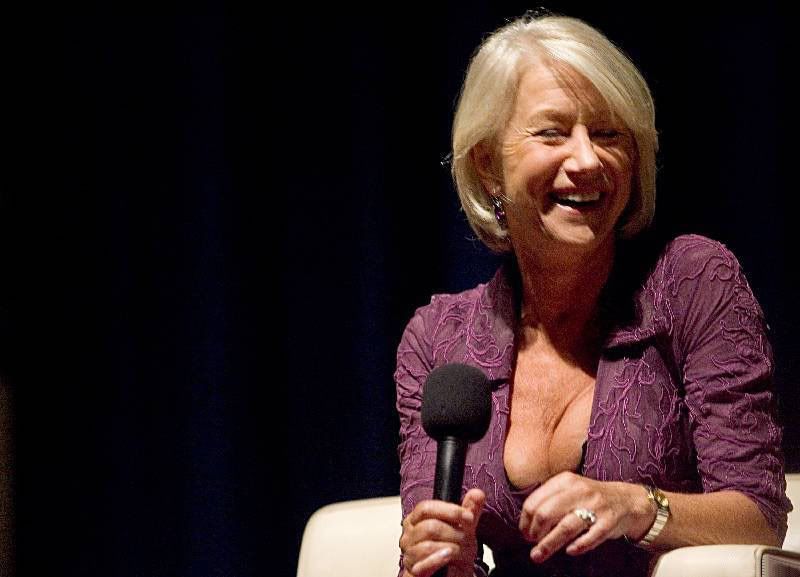 Anyone else curious to know what she's saying? My! what an expression!! That's our Dame!
The End.
sigh.... I feel like that was too short. :(
I hope everyone has a FABULOUS June and July!!!! Remember I'll be checking in on all you fun and naughty people!!! :D
MUAH!
Current Mood:
working